Bender Leadership Academy Awards $3000 in Scholarships to Students with Disabilities
Pittsburgh, PA – January 10, 2021 – Bender Leadership Academy announces annual scholarship for students with disabilities.
About the Linda Dickerson Scholarship – The Linda Dickerson Scholarship was created by Bender Leadership Academy for students who were positively impacted by attending the Disability Mentoring Day program. The scholarship is in memory of Linda Dickerson, a leader in the disability community who knew independence and employment were the most important goals for young persons with disabilities. This scholarship is designed to help students achieve their educational and career goals inspired by the Disability Mentoring Day program.
2020 Linda Dickerson Scholarship Recipients
The first annual awardees of the Linda Dickerson Scholarship are:
Angelina Baker, Western Pennsylvania School for the Deaf, Scholarship Award Amount: $1,000
Jesse Muntan, IU1 Educational Campus at Waynesburg, PA, Scholarship Award Amount: $1,000
Cailya Pacheco, Delcastle Technical High School, DE, Scholarship Award Amount: $1,000
About Bender Leadership Academy – Bender Leadership Academy delivers competency building programs that enable students with disabilities to engage in educational, empowerment and work opportunities, celebrate successes, and set and achieve career journey goals. Established in 2018, Bender Leadership Academy is founded on a commitment to serving the disability community, with a focus on the value and abilities each person can contribute to the workforce. Beginning as a volunteer mentoring program with the single purpose of helping youth transitioning into the workforce, the organization is now multi-faceted with programming that provides a comprehensive approach to addressing barriers to employment.
About Linda Dickerson – Linda Dickerson was a trailblazer in the Disabilities Rights Community. Linda was diagnosed with a rare, genetic neuromuscular disease known as Werdnig-Hoffmann, a severe form of spinal muscular atrophy. She used a wheelchair her entire life. After obtaining other significant disabilities later in her life, she still remained unstoppable. Dickerson's internal drive and unrelenting spirit did not let any challenges get in the way of her life goals.
She graduated in 1981 from Carnegie Mellon University with a bachelor's degree in Small Business Management and Marketing. She went on to earn a master's degree in Communications from Duquesne University. She received honorary degrees from La Roche University and Chatham University.
Linda's commitment to her education, resulted in her being the first person to attend CMU in a wheelchair. Dickerson stated that her fellow classmates would carry her up the stairs so that she could attend classes in buildings that didn't have elevators.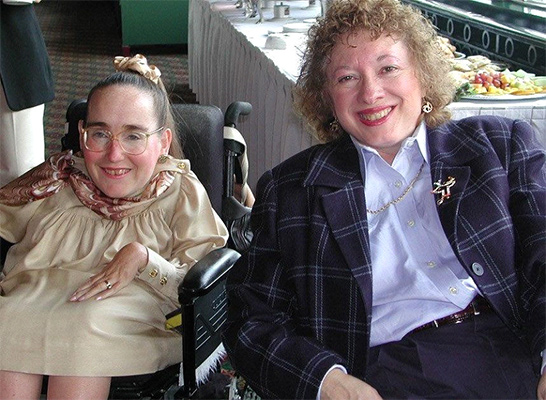 Dickerson served as a board member of numerous community agencies and nonprofit boards, including Carnegie Mellon University, National Aviary in Pittsburgh, Pittsburgh Ballet, Dress For Success Pittsburgh, Lydia's Place, Tickets for Kids Charities, Three Rivers Communities Foundation, Life's Work, Three Rivers Center for Independent Living, the United Way's Frail, Elderly and Disabled Task Force, the Airlift Research Foundation, and the advisory board of the Carnegie Library for the Blind and Physically Handicapped.
She received many awards for her achievements and was a mayoral appointee to the City of Pittsburgh/Allegheny County Joint Task Force on Disabilities and advocated for disability rights.
Dickerson was the former owner of Executive Report magazine and, she published her first children's book, "Lavi the Lion Finds His Pride" in 2002.
Linda Dickerson passed away at the age of 59 in September 2020.
Linda Dickerson Scholarship Funders – Funding for the Linda Dickerson Scholarship include Bender Leadership Academy and Highmark, Inc.