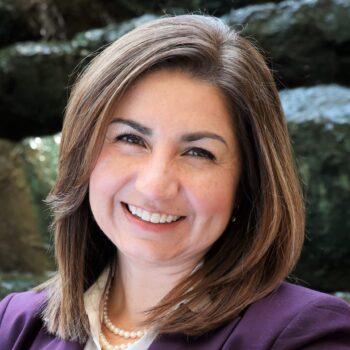 Veronica Villalobos,
Board Director
Veronica Villalobos is the Vice President of Diversity, Equity and Inclusion (DEI) and the Center of Health Equity at the Highmark Health/Allegheny Health Network's (AHN) Enterprise Institute for Equitable Health. She strives to build a more diverse and inclusive workforce, to ensure clinical programs are accessible to all, and to address health disparities among patients, members and customers. She is responsible for the execution of all aspects of the enterprise DEI Strategic Plan, as well as strategic initiatives related to the Highmark Health Equity Campaign to include establishing AHN as a hub of world-class health equity research. Veronica formerly served as the Principal Deputy Associate Director for Employee Services (ES) at the U.S. Office of Personnel Management (OPM) and was selected for the Senior Executive Service in 2010.  In that role, she formulated and implemented human capital strategies and policies to support Federal agencies in meeting their missions. She also drove efforts to advance evidence-based human capital management through strategic foresight, futuring methods, analytics and research.  Her leadership in this area enabled the Federal Government to better shape an informed Human Capital policy agenda by anticipating drivers that influenced and impacted the Federal workforce.
Veronica spearheaded the first government-wide D&I effort for a workforce of 2.1 million, serving as the first Director of OPM's Office of Diversity and Inclusion. In that role, she led efforts and met the government's goal of hiring over 100,000 employees with disabilities within 5 years to enable agencies to better meet their missions. She also created and drove transformative change government-wide, developing tools that assisted organizations in addressing unconscious bias and using metrics to foster fair, open, cooperative, supportive, and empowered workplaces. Through her efforts, the Federal Government implemented the first Government-wide D&I Strategic Plan, resulting in the historically highest level of employment of women and minorities in the workforce with an increase of 10.4 percent in the Senior Executive Service over 4 years. Before joining OPM, Veronica worked at the U.S. Equal Employment Opportunity Commission (EEOC), as one of the agency's first Honor Program Attorneys. During her time there, she chaired the EEOC's Work Group on Hispanic Underrepresentation in the Federal Workforce. Veronica graduated from Saint Mary's College in South Bend, Indiana, and earned her law degree from American University's Washington College of Law. She is a member of the Maryland Bar and serves on the Boards of the American Association of People with Disabilities; the Epilepsy Association of Western Central Pennsylvania; the Bender Leadership Institute; and the Latino Community Center.