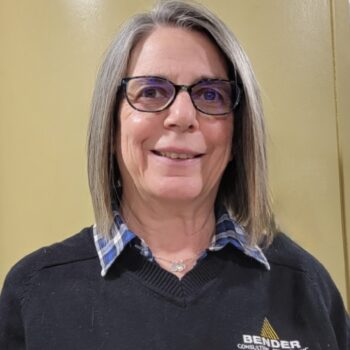 Bonnie Rubin, Sr. Program Specialist

A Life of Service
Bonnie Rubin is committed to serving the disability community as a program director for Bender Leadership Academy Transition Services. Bonnie has been critical in developing and engaging community partnerships and providing quality work readiness programs for youth with disabilities for the past eleven years.
As the former Pittsburgh Programs Administrator for Volunteers of America, Bonnie provided oversight for programs in Southwest PA, including the Workforce Development Program which offered training for people with disabilities and other barriers to increase employment options. Bonnie joined Volunteers of America as the Executive Director of Pittsburgh Disability Employment Project for Freedom when the program merged into the organization.
Bonnie served the National Council of Jewish Women (NCJW) for 9 years in various capacities including Chief Operating Officer, Interim Executive Director, and Director of Retail Membership/Volunteer Coordinator. In her tenure at NCJW, Bonnie facilitated the growth of retail operations, coordination of community service programs, membership engagement, event/fundraising planning, budgets, community partnerships, marketing, staff management, strategic plan implementation and Board development.
Bonnie was born and raised in Pittsburgh and shares the love of the many diverse neighborhoods and cultural opportunities. She is an artist and entrepreneur and started her own business on a cart in Station Square at the age of 21. Her background is people centered and diverse as a small business owner, art production supervisor, artist, and nonprofit professional. Bonnie's career has included a strong commitment to effecting positive impact in her community by delivering meaningful and educational programming.
Career Highlights
Professional
2018 – Founding director for Bender Leadership Academy
2017 – Joined People's Gas as a Career Transition Professional through the United Way 21 and Able program
2017 – Summer Workplace Readiness Training Coordinator
2014 – Joined Volunteers of America Pennsylvania, Inc. as the Pittsburgh Programs Administrator
2012 – Joined Pittsburgh Disability Employment Project for Freedom as the Executive Director
2009 – Promoted to Chief Operating Officer for the National Council of Jewish Women
2007 – Acted as the Interim Executive Director for the Nation Council of Jewish Women
2004 – Joined the National Council of Jewish Women as the Director of Retail Operations and Membership Volunteer Coordinator
2001 – Joined All U Can Handle (AUCH) as the Production Supervisor
Education
Awarded Master's Degree in Public Policy Management from the University of Pittsburgh's Graduate School of Public and International Affairs
Awarded a Bachelor of Arts degree in Science and Education from the University of Pittsburgh's School of Education; graduated magna cum laude
Affiliations
Bonnie is a strong community advocate and has held multiple professional membership and leadership positions.
Those affiliations include:
Member, Greater Pittsburgh Nonprofit Partnership
Founding Member, Board President 2009 – 2013, Alliance of Nonprofit Stores (ANS)
Director, Marketing Committee, Shadyside Chamber of Commerce, Pittsburgh, PA
Member, POWER, Pennsylvania Organization for Women Entering Recovery
Member, Crohns and Colitis Foundation
Award Highlights
Bonnie has received recognition for her commitment to community programming and education.
Key award highlights include:
Rip Taylor Memorial Award, Spirit of Community Service
Volunteer of the Year Award, National Council of Jewish Women